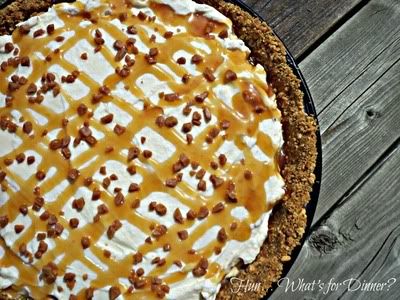 Summer, Summer, Summer Time...... that popular song by Will Smith runs through my head most of the Summer, with the sun shining and the heat making us want to head to the beach, or indoors. We love summer, but we also love to stay cool, during the summer. No matter season it is, we always love dessert; so what are we suppose to do during the summer. Though we do have central air, running through the house, I don't really like to use the oven, if I don't have to. That's why I love
No Bake desserts
, during the hotter months. With no bake desserts, the possibilities are endless!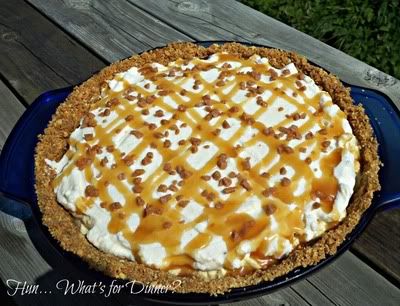 I've been dabbling quite a bit in the no bake dessert world, the past few month. I have to admit, that I am very partial to no bake cheesecakes. They are so simple to make, yet look amazing and taste phenomenal. With tons of ripe bananas, I was hoping to incorporate them into my
no bake dessert
, for Sunday dinner. I thought a banana no bake cheesecake would be awesome. But I didn't want just plain banana, so I decided to pair it with caramel and toffee bits, to make is sensational. Deliciously creamy, with slight banana flavour, this dessert not only tastes great, but it is spectacular to look at!
"
Disclosure: I am part of the Life Made Delicious Blogger program and I receive special perks as part of my affiliation with this group. The opinions on this blog are my own.
"
Banana Toffee No Bake Cheesecake
printable version
15 graham cracker squares, crushed
2 tbs packed brown sugar
1/4 C melted butter
1 pkg light cream cheese
1/3 C packed brown sugar
2/3 C mashed banana (about 2 medium)
1 pkg instant sugar free vanilla pudding
1 C milk
1 C whipping cream
1 tsp vanilla
1/4 C powdered sugar
1/2 C caramel ice cream topping, plus more for garnish
2 Tbs toffee bits
In a bowl, combine the graham crumbs, 2 Tbs brown sugar and melted butter. Mix until all mixture is wet and press into a deep dish 9-inch pie plate. Spread caramel ice cream topping, evenly, over graham crust. Refrigerate, while making the filling.
In another bowl, beat the cream cheese until fluffy. Add the brown sugar and banana, and beat until combined. In a separate bowl, combine the pudding mix and milk and beat until well combined. Let rest to set, 5 minutes. Gently fold the pudding into the cream cheese mixture. Spread into the bottom of the graham crust. Refrigerate, while making the whipped cream.
In your mixer's bowl, add the cream and beat to soft peaks. Slowly add the vanilla and powdered sugar and beat to stiff peaks. Spread whipped cream over cream cheese mixture. Refrigerate the pie for 6 hrs, to over night. Before serving, drizzle with additional caramel sauce and sprinkle with toffee bits.