Spring has finally sprung here in in Ontario Canada. So much so, that we've sprung right into Summer!! It's beautiful and it's HOT, so I've been grilling most nights. I always love looking on line for new
BBQ ideas
and this recipe really piqued my interest. I loved that it was very reminiscent of a chicken taco, but in sandwich form. We love Mexican flavours, so I knew this recipe would be a big hit. When I grill, I always love to have a nice quick salad to accompany our meals. I served these sandwiches with a simple Tomato and Avocado Salad. I decided to keep this simple and not add in any jalapeno, since the kids are not very keen on spicy foods.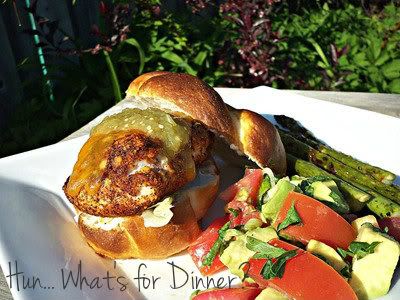 The chicken was beautifully seasoned and amazingly juicy. I decided to go with a nice aged Cheddar, to go on top, but a spicy Pepper Jack, would be awesome for those who like a bit of added heat. Since we were out of regular salsa, we topped ours with tomatillo salsa. I think I liked the colour contrast better, than if it would have been topped with tomato salsa. We all enjoyed this chicken and the kids have asked if I could make it again, this summer. I love when I can find a great BBQ recipe, that I want to make again and again!
"Disclosure: I am part of the Life Made Delicious Blogger program and I receive special perks as part of my affiliation with this group. The opinions on this blog are my own."
Fiesta Grilled Chicken Sandwiches
Adapted from Life Made Delicious
2 tbsp (25 mL) grated Parmesan cheese
1 tbsp (15 mL) Old El Paso* Taco Seasoning Mix (from 35 g package)
2 boneless skinless chicken breasts
2 slices cheddar or Monterey Jack cheese
4 crusty dinner rolls
2 tbsp (25 mL) chipotle or regular mayonnaise, if desired
4 lettuce leaves
2 tbsp (25 mL) Old El Paso* Thick N' Chunky Salsa
Heat gas grill or coals. Mix Parmesan cheese and taco seasoning mix. Coat chicken with cheese mixture.

When ready to grill, carefully oil grill rack. Place chicken on gas grill over medium heat or on charcoal grill over medium coals. Cook 10 to 12 minutes, turning once or twice, until juice of chicken is clear when centre of thickest part is cut. Cut each chicken breast in half crosswise; top each with half slice of cheese to melt. To heat dinner rolls, place rolls in foil on grill during last 6 to 7 minutes of cooking time until hot.

Spread mayonnaise on bottom halves of rolls. Top with lettuce leaf, cheese-topped chicken, salsa and top half of roll.
3 roma tomatoes, chopped
1 avocado, chopped
sea salt and fresh ground pepper
1/2 jalapeno pepper, seeded, ribs removed and minced (optional)
In a bowl combine the tomato, avocado, cilantro and jalapeno (if using). Season with lime zest, salt and pepper.Drizzle with oil and lime juice; toss gently to coat. Adjust salt and pepper as needed.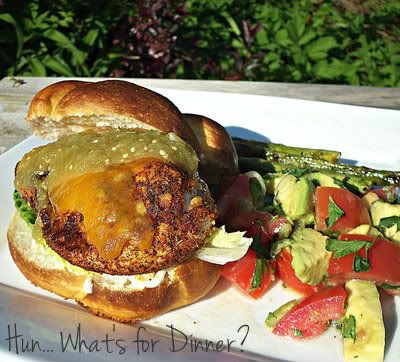 This post linked to
Full Plate Thursday
Friday Favorites
Foodie Friday
Fit and Fabulous Fridays