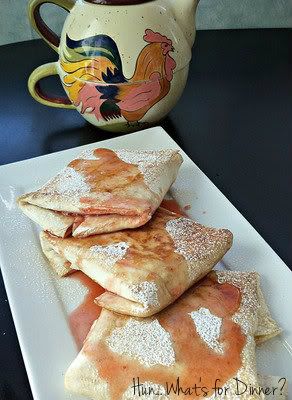 I've been missing my Mom a lot lately. We've all been busy and I haven't talked to her as often as I would have liked, in the past few weeks. With Mother's Day just around the corner, it's making me even more sentimental, because I truly can't remember the last I was with Mom, on Mother's Day. Hubby being in the restaurant business, is always responsible for making everyone elses Mother's Day special and often as a result, we miss out on celebrating our own mothers. If I were able to spend the day with Mom, I surely wouldn't let her set foot in the kitchen. She would find it hard, but I she would have the day off and I would try to treat her with delicious meals, all day long. After church, I would pour her a cup of coffee and start on Sunday brunch. Perhaps these Blintzes would make an appearance, with some bacon, scrambled eggs and fresh fruit.
I found this easy and very delicious recipe over at
Life Made Delicious
, while browsing their
Mother's Day Brunch
ideas. Hubby and the kids usually treat me to breakfast in bed, but I still like to browse on line, to see what everyone else is thinking up, for this special day. I, as a mother, am a nurturer. You come into my house, and I want to feed you and make sure you are well taken care of. So, when I think of special things I can do for my Mom, my thoughts go directly to food. Growing up, Mom was always in the kitchen, baking or cooking for us, so it seems only natural that I love to do the same thing. And if just one day, I can give her a break and make some special dishes that she doesn't normally eat, I am more happy to do so. I did change the recipe up, to use what I had on hand. Rather than blueberries, I used frozen strawberries. I would have loved to incorporate some fresh berries in the filling as well, but the kids ate them all yesterday (and I've yet to have time to head to the store). These Blintzes taste so fresh and bright, due to the addition of the lemon zest. Truly something special, to make for someone you love.
"Disclosure: I am part of the Life Made Delicious Blogger program and I receive special perks as part of my affiliation with this group. The opinions on this blog are my own."
Blueberry Burrito Blintzes
Adapted from Life Made Delicious
printable version
2 1/4 cups (550 mL) frozen blueberries
1/2 cup (125 mL) low-fat cottage cheese
2 tbsp (25 mL) sugar
1/2 tsp (2 mL) grated lemon peel
1/4-1/2 tsp (1-2 mL) each nutmeg and cinnamon
1/2 pkg (250 g) low-fat cream cheese, softened
3/4 cup (175 mL) low-fat blueberry yogurt
1 pkg (334 g) Old El Paso* 8 Large Flour Tortillas
1 tbsp (15 mL) butter or margarine
1/4 cup (50 mL) maple syrup
Icing sugar
Lemon slice, if desired
Thaw blueberries as directed on package. Drain; reserve juice.
In a medium bowl, mix cottage cheese, sugar, lemon peel, nutmeg, cinnamon, cream cheese and yogurt until well blended. Gently stir in drained blueberries.
Place large sheet of waxed paper on work surface. For each blintz, place 1 tortilla on waxed paper. Spoon about 1/4 cup (50 mL) yogurt mixture in centre. With pastry brush, moisten outer edge of tortilla with reserved blueberry juice. Fold opposite sides of tortilla over filling, ends meeting in centre; fold remaining 2 sides of tortilla over each other.
In large non- stick skillet, melt half the butter over medium heat. Cook 4 blintzes at a time, starting with seam-side-down, about 3 minutes on each side until golden brown. Place blintzes, seam-side-down, on serving platter; drizzle with maple syrup. Sprinkle with icing sugar and garnish with lemon slice if desired.
Cindy's notes: I used frozen strawberries which I thawed on the stove, with a Tbs of sugar. I let the berries cook for 4 minutes and mashed them with a wooden spoon. Then I strained the juices, to use as a syrup. I also omitted the cottage cheese, doubled up on the cream cheese and used strawberry yogurt.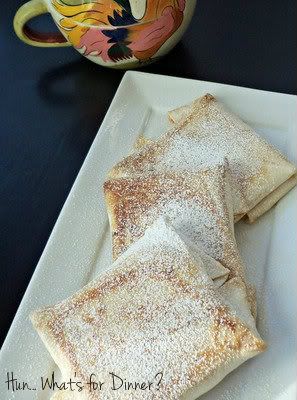 This post linked to
Weekly Round-up
Church Supper