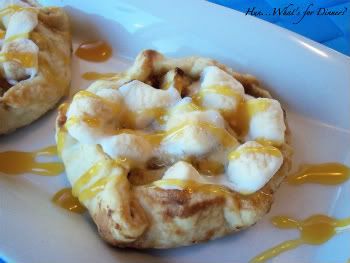 We still have quite a few apples left from our trip to the orchard, so I've been checking out some of my favourite sites, for ideas and recipes. Once again, Life Made Delicious came the the rescue! They have a ton of awesome apple recipes and this one caught my eye. It's basically an apple tart with toasted marshmallows on top. The combination sounds a little odd, but trust me, it's DE-LICIOUS!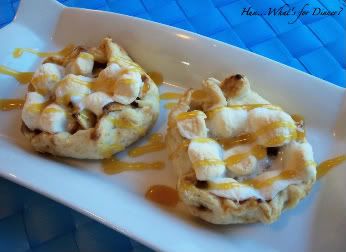 This recipe was perfect, since the apples we've picked are super tart. We love tart apples, so this recipes was a great combination of sweet and tart. The tart apples cut the sweet marshmallows and caramel sauce. The original recipe uses apple pie filling, but I simply tossed my apples with some brown sugar, cinnamon, vanilla and flour. The apples were still slightly crisp, with a nice flaky crust and sweet topping. The kids loved these and they are pretty enough to impress. For more tasty and easy recipes, such as this one, visit
Life Made Delicious
.
"Disclosure: I am part of the Life Made Delicious Blogger program and I receive special perks as part of my affiliation with this group. The opinions on this blog are my own."
Caramel Apple Marshmallow Tarts
Adapted from Life Made Delicious
Prep Time:20 Mins | Total Time:1 Hr 10 Mins | Makes:8 tarts
This tart recipe is a winner for dessert or snack time, featuring the convenience of refrigerated pie crust, apple pie filling, mini marshmallows and caramel topping.
1 pkg Pillsbury* Refrigerated Pie Crusts, softened as directed on box
1 cup (250 mL) apple pie filling
3/4 cup (175 mL) miniature marshmallows
3 tbsp (45 mL) caramel topping
Heat oven to 400ºF. Unroll pie crusts on work surface. With 4 1/2-inch round cookie cutter, cut 4 rounds from each pie crust.
Spoon about 2 tablespoons pie filling onto center of each pie crust round. Firmly fold edge of crust over sides of filling, ruffling decoratively. Place on ungreased large baking sheet.
Bake 15 to 20 minutes or until crust is golden brown. Sprinkle marshmallows over filling. Bake 3 to 4 minutes longer or until marshmallows are puffed and just beginning to brown. Cool completely, about 30 minutes.
Just before serving, drizzle about 1 teaspoon caramel topping over each tart.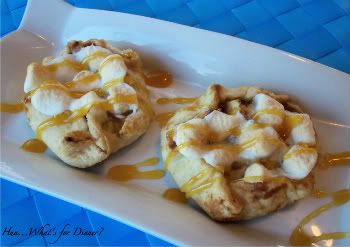 This post linked to
Made it on Monday
Full Plate Thursday
Turning the Table Thursday