With 15 days left before Christmas, I really can't seem to find the Christmas spirit. I'm not sure if it's the lack of snow, or how overwhelmed I am feeling this year. The days just seem to be getting shorter and my 'to do' list seems to be getting longer. One of my favourite things to do during the holidays is bake and for some reason I'm just not 'feeling' it. But when the mood strikes I like to be able to whip something up that looks amazing and tastes just as good, in a small amount of time.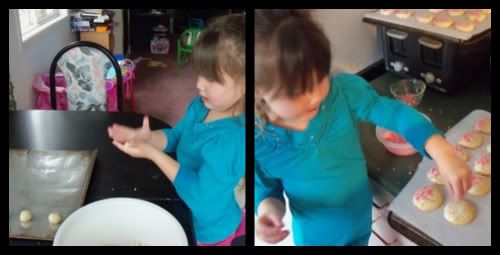 With Mr.B in school full time, Queenie has become my shadow. That means anywhere Mommy goes, she is sure to follow. So, you can bet that when the mood to bake strikes, she's right there beside me wanting to help. At first it was a tad overwhelming, since I'm a little bit of a control freak. I always see how things should go in my head and get flustered and upset if they do not go that way. Which is bound to happen, with a 3 yr old in the kitchen, LOL. What I love about these cookies is that they are pretty much fail proof. And they are so simple that Queenie could help and pretty much make the cookies by herself. That's what I love about recipes from
Life Made Delicious
; they are simple and
easy
, yet stunning and
delicious
. Your kids are sure to love helping out with these and what a better way to celebrate the Holidays, than with some family baking time.
Peppermint Crunch Cookies
Adapted from Life Made Delicious
1 pkg Pillsbury* Refrigerated Sugar Cookies
1 1/2 cups (375 mL) white vanilla baking chips or semisweet chocolate chips
8 round hard peppermint candies, crushed (about 1/4 cup/50 mL)
Heat oven to 350ºF. In large bowl, break up cookie dough. Stir or knead in
1/4 cup all-purpose flour
until well blended. Shape dough into 36 (1-inch) balls. Bake 10 to 14 minutes or until edges are golden brown. Cool 1 minute; remove from baking sheets to cooling rack. Cool completely, about 5 minutes.
In small microwavable bowl, microwave vanilla chips and 1 tablespoon vegetable oil uncovered on Medium (50%) 2 to 3 minutes, stirring once halfway through microwaving, until melted. Stir until smooth.
Dip half of each cookie into melted chips mixture, allowing excess to drip off; place on waxed or parchment paper-lined baking sheets. Sprinkle each with about 1/2 teaspoon crushed candy. Let stand until set.
"Disclosure: I am part of the Life Made Delicious Blogger program and I receive special perks as part of my affiliation with this group. The opinions on this blog are my own."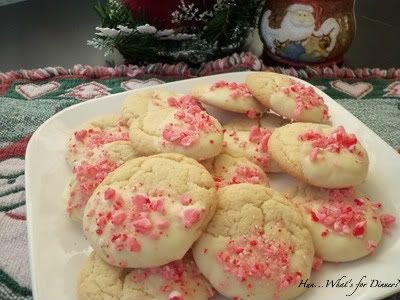 This post linked to
Bake with Bizzy
Foodie Friday
Friday Favorites
Sweets for a Saturday