Cobbler, what is cobbler? Growing up my Mom never made this and over the years I've heard so many people talk about them. Peach cobble, apple cobbler, cherry cobbler. They all sound delicious, but which recipe do you use? I was thrilled when I found this
delicious
sounding and
easy
cobbler recipe, over at
Life Made Delicious
. It used 2 of my favourite fruits, which seem to pair together perfectly. Peach cobbler would be good, but blueberry peach is way better, LOL.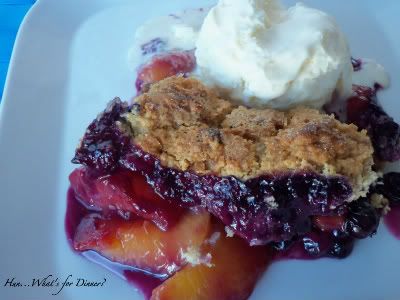 I just love the colour the blueberries give this dessert. The slightly tart berries compliment the juicy sweet peaches perfectly. They add another depth of flavour to the dessert. The walnut biscuits added an almost savory aspect to the dessert. I have to be honest here and say that I preferred the biscuit topping at room temperature, rather than hot. The sweetness seemed to intensify as it cooled and helped balance out the earthy toasted nut flavour. Served with a scoop of vanilla ice cream, this dessert is super yummy!! The kids and Hubby really enjoyed this as well and asked why I don't cook with peaches more often. I guess it's time to start, LOL!
"Disclosure: I am part of the Life Made Delicious Blogger program and I receive special perks as part of my affiliation with this group. The opinions on this blog are my own."
Blueberry-Peach Cobbler with Walnut Biscuits
Adapted from
LifeMadeDelicious.ca
Fruit Mixture:
8 medium fresh peaches (about 2 lb), peeled, each cut into 6 wedges
1 cup (250 mL) fresh blueberries
1 tbsp (15 mL) cornstarch
1/2 cup (125 mL) granulated sugar
1 tbsp (15 mL) lemon juice
1/4 tsp (1 mL) ground cinnamon
Dash salt

Biscuit Topping:
1 cup (250 mL) Bisquick* mix
1/4 tsp (1 mL) groung nutmeg
2 tbsp (25 mL) milk
2 tbsp (25 mL) butter or margarine, softened
2 tbsp (25 mL) granulated sugar
2/3 cup (150 mL) chopped walnuts
2 tsp (10 mL) milk, if desired
1 tbsp (15 mL) coarse sugar
Heat oven to 400ºF. In medium bowl, stir together fruit mixture ingredients; let stand 10 minutes to allow sugar to pull juices from peaches. Transfer to ungreased 8-inch square (2-quart) glass baking dish. Bake uncovered about 10 minutes or until fruit is bubbling. Remove from oven; stir. Bake 10 to 12 minutes longer or until bubbly around edges (fruit must be hot in middle so biscuit topping bakes completely).
Meanwhile, in medium bowl, stir all biscuit topping ingredients except 2 teaspoons milk and coarse sugar until firm dough forms.
Drop dough by 6 spoonfuls onto warm fruit mixture. Brush dough with 2 teaspoons milk. Sprinkle with coarse sugar.
Bake 25 to 30 minutes or until biscuits are deep golden brown and bottom of center biscuit is no longer doughy. Cool 10 minutes on cooling rack. Serve warm.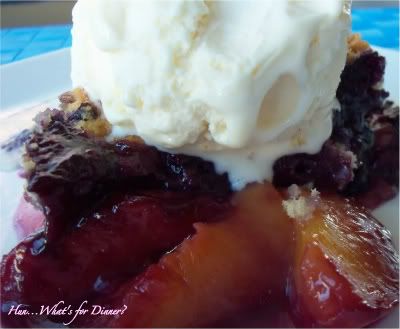 This post linked to
Foodie Friday
Fat Camp Friday
Friday Favorites
Friday Potluck
Bake with Bizzy
Sweets for a Saturday