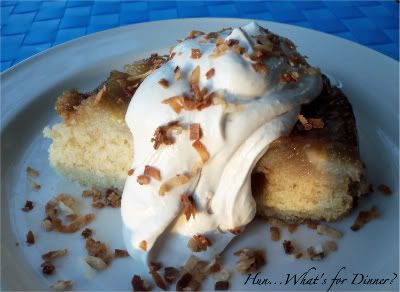 Do you ever think of food combinations and wonder what they would taste like? Well, this was a result of such a thought. Having recently had the opportunity to try
Betty Crocker's new Gluten Free Cake mix
; I was sitting around, one afternoon, craving something sweet. I knew I wanted cake and something with banana and some sort of syrup. So, I thought "I wonder if I could make a banana upside down cake?". Off to the kitchen I went, to try out the cake mix and hopefully make something phenomenal.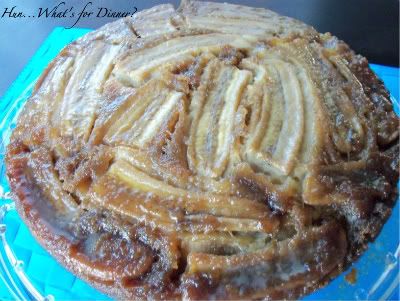 And, this was. The sugary syrup coated bananas, topping a moist cake, was pure heaven. Almost like bananas foster, but with cake, rather than a crepe. I added an extra layer of flavor with some Malibu rum. How can a little coconut flavored rum be bad, right? This cake mix is a little grainy-er than regular BC cake mixes, but I thought it was still pretty good! It didn't stop my family for gobbling this up in no time flat. So, if you have Gluten intolerance, or know some one who does, try out these new cake mixes. You'll be pleasantly surprised!
"Disclosure: I am part of the Life Made Delicious Blogger program and I receive special perks as part of my affiliation with this group. The opinions on this blog are my own."

Gluten Free Banana Upside Down Cake
printable version
1 box Betty Crocker GF Yellow cake mix
1/2 C butter
2 Tbs Coconut flavored rum (such as Malibu Rum)
1/2 C milk
1 C brown sugar
3 Tbs butter
2 Tbs Coconut flavored rum
1/8 tsp salt
3-4 bananas, peeled, cut in half
1 C heavy whipping cream
2 Tbs Demera sugar
1 tsp vanilla
1/4 C toasted coconut
Preheat oven to 350 degrees.
In a 9 inch round cake pan, melt 3 Tbs butter and brown sugar. Add rum and salt and mix well. Slice banana halves, in half length wise. Place banana quarters, cut side down, into the pan, forming a circular pattern. Set aside.
Mix cake mix with butter, rum and milk, according to package directions. Pour over bananas in cake pan. Bake in oven for 40-50 minutes, until tooth pick inserted comes out clean.
Remove from oven and run a knife around the edge of the cake. Place heatproof serving plate upside down on pan; turn plate and pan over. Leave pan over cake 1 minute so brown sugar topping can drizzle over cake. Cool 30 minutes. Serve warm or cool. Store loosely covered at room temperature.
In a bowl, whip cream to soft peaks. Slowly sprinkle in Demera sugar and vanilla, and continue whipping to stiff peaks. Serve slices of cake with a dollop of whipped cream and a sprinkle of toasted coconut.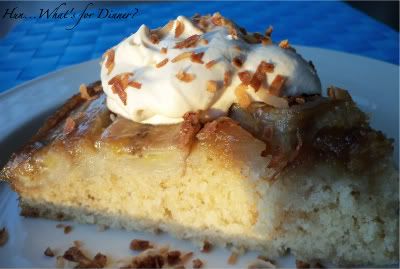 This post linked to